Incredible India
We fell in love with the people, the architecture, the food and the country! Travel doesn't become an adventure until you leave yourself behind.  And we certainly left our hearts behind in Incredible India.  One of our favorite monuments was the Taj Mahal, nothing can prepare you for seeing the magnificent Taj Mahal with your very own eyes!

Our Visit to North India
From the moment we booked our trip for the North India trip we were so EXCITED, we were counting the days for our visit to Delhi, Agra, Rajasthan, Ranthambore, Jaipur and Udaipur.  We researched so many things from the weather, to when to apply for our visa to which excursions to take and what to pack. We could not wait to experience the Indian Heritage and History!
The visas arrived online, the bags were packed and we took OFF to the vacation of a lifetime.
The moment we landed in Delhi we wanted to start exploring the sights, sounds and tastes of the Golden Triangle in INDIA! From riding in the rickshaws, to eating masala dosa and drinking masala chai every morning.
We posted our entire experience on our social media channels. There is lots of instagram stories, facebook lives and much more so make sure you follow us on all the channels and keep a tab on our trip @jaxvegancouple. You can travel with us virtually on YouTube!
Keep reading below to learn more about the places we visited, the architecture, the people and food of Incredible India and links to all the videos on the Jax Vegan Couple's YouTube!
Our beautiful Indian adventure began in Old Delhi, the Mughal capital established by Shah Jahan in 1638. At the famous Red Fort, got a chance to ride in bicycle rickshaws through the rickety streets.  The rickshaws weaved through the crooked, congested alleys of Chandni Chowk, one of India's oldest and busiest bazaars.   In the bazaar we saw the traditional workmanship for which India is well known and still thrives.  We held on tight to the rickshaws as they swerved and honked through crazy traffic.
The sounds of street vendors selling finger foods, fruits and traditional indian artifacts were music to our ears.  The city AND the people were just so beautiful, polite, humble and gracious.
Mahatma Gandhi's Burial Site
The first place we went to visit on our tour was the Mahatma Gandhi's serene and evocative cremation site, and Jamah Masjid which is one of the largest mosques in India. One of our famous quotes from Gandhi was "Happiness is when what you think, what you say, and what you do are in harmony."
The heart, harmony and soul of India is embodied in Gandhi's burial site.  There was a palpable energy of peace that deeply touched us when we went to visit Gandhi's tomb with an eternal flame right beside it.
Jama Masjid
The majestic Jama Masjid – meaning world-reflecting' mosque – is Old Delhi's principal place of worship, and the largest and most renowned of its kind in India.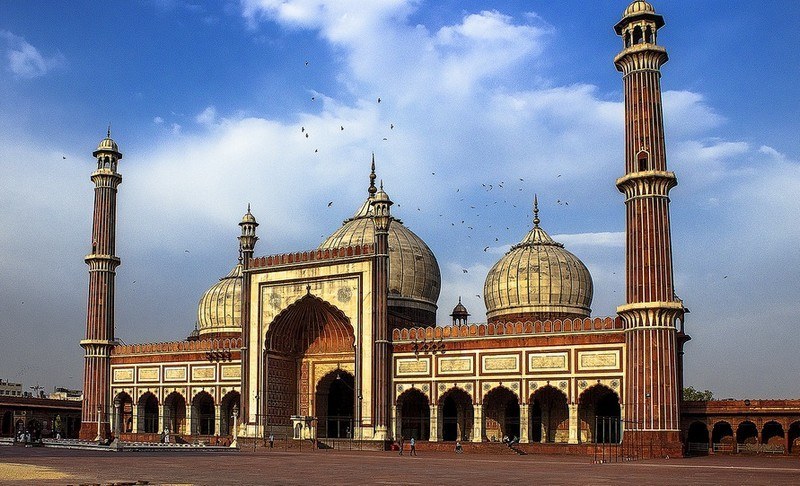 Built in the 17th century by the Mughal Emperor Shahjahan – who also built the Taj Mahal and the Red Fort – it's an elaborate structure featuring an expansive geometric base topped with globe-shaped minarets crafted from strips of red sandstone and white marble, and a massive courtyard that can hold up to 25,000 people for prayer.
Qutab Minar
After the Jama Masjid we visited the Qutab Minar, a UNESCO World Heritage Site, a stunning 240-foot minaret, the tallest in the world, surrounded by an elaborate complex built in the Indo-Islamic architectural tradition.
Taj Mahal in the City of Love
Agra- One of the most romantic destinations in India – Taj Mahal this extraordinary monument, built entirely of white marble, was made with love. It was created by the Emperor Shah Jahan to honor the memory of his beloved wife Mumtaz Mahal, who died in childbirth. Construction first began in 1631, and around 20,000 people were required to complete it; even so, it wasn't finished until 1653.
The Taj Mahal is one of the jewels of India and is a universally admired masterpiece. Watch our videos from inside Taj Mahal at sunrise and sunset on YouTube.
Agra is one of India's prime tourist destinations for specifically this reason, though its attractions also extend to an array of other impressive historical sights.
It's one of the most photographed sites of all time, appearing in magazines, films, documentaries and postcards. But honestly, nothing can prepare you for seeing the Taj Mahal with your very own eyes.
We were so excited to witness one of the most beautiful sunsets of all time at the magnificent Taj Mahal!
Early this morning we visited the Taj Mahal at sunrise and even got a chance to meditate sitting on the marble floor.
If you visit the Taj Mahal you will be part of a huge crowd who, like you, want to see the wonder of the world. That said, if you want to capture the greatest pictures without the crowd it is so worth it by waking up before sunrise and getting there first! It'll be worth the early rise, trust us.
Who doesn't love fresh flowers?  We are drawn to their attractive colors and wonderful fragrances.  The gardens at Taj Mahal are bursting with beautiful flowers at every turn, the smell is intoxicating.
In India, you are greeted by friends and family with a colorful flower garlands placed around your neck.  Our tour guide was so nice he went out of his way to do this for us. At every street corner you will see vendors sitting and making these garlands with the most beautiful variation of flowers like: jasmine, orchids, roses, mums and carnations.
At sunset we visited the Taj Mahal again. Known as the "Baby Taj", the first Mughal structure totally built from marble. In addition, visited the Sikandra, the sandstone and marble tomb of Akbar which blends Islamic, Hindu, Buddhist, Jain and Christian motifs and styles. We loved dressing up as locals in our colorful indian outfits (kurta pajama).
Loved the contrasting colors of our kurtha pajamas (traditional indian outfits) against the red sandstone buildings and against the white marble of the Taj Mahal. 
The architecture of each building the mosque next to Taj Mahal, the Little Taj, Caught in the last hours of sunlight they were impossible to miss, impassive and impressive.  The story of the Taj Mahal, thus they say it is great spot for lovers. However, what many don't know, is that the Taj Mahal has a mosque inside and is closed on Friday's for local Muslims to pray there.
Taj Mahal is definitely on the list of everyone who wants to see seven wonders of the world or for one who wants to see the world itself, Taj Mahal is simply a must. 
It's hard to put into words what seeing such a majestic monument like the Taj Mahal is in real life. It's exhilarating, surreal, dreamy and overwhelming all at once. Also, it was such a wonderful experience to witness one of the most beautiful sunrise of all time.
Often considered the pinnacle of Mughal art in India, the Taj was built by Emperor Shah Jahan for his beloved wife Mumtaz Mahal. When declaring it a world heritage site, UNESCO described it as "the jewel of Muslim art in India".
Here's a group picture with everyone that was on our tour together and our guide Vaid was just incredible!
Love this candid picture, birds flying in the sky, the sun was setting and the smile on Ubaid's face were all priceless.  There are few words that can describe the magnificence of this monument we stood marveling as light and colors transform this stunning masterpiece.
The Taj, however, is in a league of its own and needless to say is a must-see for any visitor to the city. Commissioned by the Mughal emperor Shah Jahan in the 15th century as a memorial to his beloved wife Mumtaz Mahal, it is an architectural masterpiece of exquisite craftsmanship and perfect proportions.
Follow us to the Taj Mahal and enjoy this once in a lifetime experience in Agra!
Red Fort of Agra
Known as the Red Fort of Agra, this walled imperial city was founded in 1565 by the Emperor Akbar (1556-1605) and is a well-deserving UNESCO World Heritage site, located just 2.5 kilometers from the famous Taj Mahal.
Its palaces, grand mosques and elaborate public hall are crafted from pink-red sandstone and are testament to an era when Indo-Muslim art, strongly marked by influences from Persia, was at its height. Emperor Shah Jahan, who built the Taj Mahal for his deceased wife, was imprisoned by his son Aurangzeb in Agra Fort.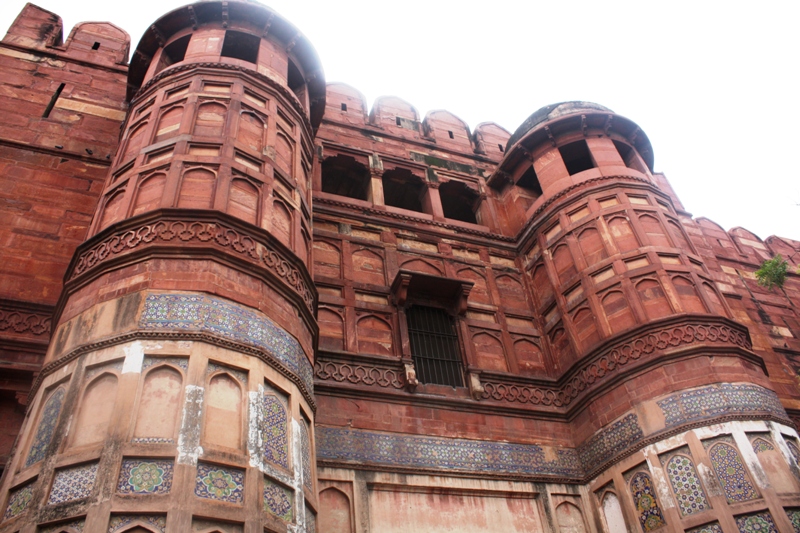 He is said to have died in the Musamman Burj, a marble tower he himself built, with one of the most alluring views of the Taj Mahal.
This morning, we departed for the "Pink City" of Jaipur – Rajasthan's capital, the origin of Jaipur's nickname becomes immediately apparent as we enter the old city walls and greet the pink-colored buildings that rise at every turn. Jaipur is an excellent place to enjoy unparalleled shopping and people watching.
You may want to spend time in the oldest and busiest of markets in the walled city, Johori Bazaar, a true feast for the senses. Aromatic spices fill the air, while oxcarts, rickshaws, cows, bejeweled women and men with shocking pink turbans walk through the busy streets.
Ranthambore National Park – Tiger Safari
Today we were up at pre-dawn drinking  masala chai and biscuits before setting off on an early morning game drive with a park guide in search of the elusive Royal Bengal Tiger. Watch the YouTube video from the Tiger Safari.
Riding in an open jeep for the trip of a lifetime, up close wildlife experience with Royal Bengal tigers, leopards, peacocks, monkeys and other wildlife roaming wild and free. So much compassion for these beautiful animals.
Ranthambore National Park is a vast wildlife reserve near the town of Sawai Madhopur in Rajasthan, northern India. It is a former royal hunting ground and home to tigers, leopards and marsh crocodiles.
Its landmarks include the imposing 10th-century Ranthambore Fort, on a hilltop, and the Ganesh Mandir temple. Also in the park, Padam Talao Lake is known for its abundance of water lilies.
There was an impressive array of other animals and bird life (over 270 species of birds have been seen). It is situated between the Aravalli and Vindhya mountain ranges, forested with deciduous trees and dotted with natural and manmade lakes and spectacular ancient ruins.
After an hour of driving on the hunt, there were shouts of delight as we finally spotted the Bengal Tiger in all his magnificent glory!
Wildlife including leopard, sloth bear, wild boar, langur nilgai, sambar and chital also inhabit the park in abundance.
Spotted beautiful peacocks, family of deer, lots of monkeys jumping onto our jeep for food and attention.
Crocodiles were spotted  in some of these lakes, which were also filled with water birds.
After an eventful morning we returned to the hotel Anurag Palace for lunch. This masala chai, upma, sambar and no-oil parathas made by the chef were just mouth-watering and delightful!
Enjoyed our afternoon at leisure strolling through the Anurag Rajasthan palace grounds and enjoyed the beauty all around us.
The Pink City – Jaipur
They call it the Pink City because, well, everything is pink. It's the color of hospitality, meaning that just like the cast of 'The Real Marigold Hotel', you can really make yourself at home here.
We cooled down with a mango, coconut or pistachio flavored Indian ice-cream provided by our tour guide, best in town.
Maharaja's City Palace – Mubarak Mahal
After breakfast we took a half-day tour of the city visiting all the shopping areas in the museums, palaces and the city street stalls. Practice your bartering skills in the thousands of shops, buy more souvenirs than you can carry and enjoy watching the street traders haggle through their daily business.
Everything a traveler could ever wish to buy can be found in Jaipur's roadside shops and bustling marketplaces – where the streets were carefully planned out to make it a shopper's dream.
Hit up the metal district and get an engraved copper cups, take in the sites and smells of the lush flower market and barter for a pair of bracelets, silk scarfs or jewelry.
The City Palace forms one of the most famous tourist attractions and a major landmark in Jaipur.
The beautiful palace was built by Maharaja Sawai Jai Singh during his reign.
Among the various forts and palaces of Jaipur, the City Palace stands apart, with its outstanding art and architecture.
Afterwards stopped at the Hawa Mahal – an impressive beehive like tower with a beautiful façade for a photo opportunity.
Exploring Mubarak Mahal in Maharaja's City Palace a major landmark in Jaipur, Rajasthan. This beautiful palace was built by Maharaja Jai Singh during his reign. The city palace stands apart with its outstanding art and architecture. Learned so much today about the people, the culture and the history of this colorful city.
Amber Fort
Amber Fort, officially known as the 'Amer Palace', is one of the most famous forts of Rajasthan attracting around 4,000 to 5,000 visitors a day during peak tourist season. Having a magical moment under the beautiful sandstone arches of Amer Palace. Feeling like Royalty!
The palace was named after the small town of Amer, where it is situated – only eleven kilometres from Jaipur. Here's a video recap from Maharaja Palace, Amber Fort.
There was a young boy who offered to take our picture as we sat on the steps in the garden.  One photo, two, three, it turned into a photoshoot… such a magical place and what a sweet kid!  Once again, I can't repeat enough the how beautiful and humble people are in India!!
Combination of colorful, block print motif eastern outfits and shoes worn with western denim jeans. The view behind us is of the mountains and the villages by the fort.  Took a jeep ride to get to the top, in the olden they took an elephant or camel ride to get to the top.
Perfectly picturesque, this 16th century hillside residence is well preserved, boasting grand pavilions and mirrored halls that open onto flourishing gardens and courtyards.
Although the palace's main construction started in 1592 by Maharaja Man Singh, it was added to over the years by successive rulers and continued to be occupied by them until Jaipur was built.
Amer fort was built with red sandstone and white sandstone. The fort still stands as a grand example of ancient Indian architecture. It is known for its blend of Rajput and Hindu style of architecture and mixture of Hindu and Muslim style of ornamentation. This garden is located in front of the fort. The garden is formed in a star shape. It is said that saffron flowers were planted in the garden. Now, climatic conditions do not allow saffron plant to thrive in Jaipur. 
The carvings on the ceiling and the walls are extraordinary features of this fort. There are many paintings of ancient hunting styles, portrait of important Rajput rulers and others.
There are a series of gates in the fort and each one has a unique structure and architectural element to enjoy.You can find many buildings inside the fort including Diwan-e-Aam, SukhMandir, Sheesh Mahal and others.
There was so much beauty at every turn, the architecture and the details were amazing. Sheesh Mahal or the Mirror Palace is the most beautiful part of this fort. This palace has been shown in many local movies. 
The walls and the ceilings in this palace are carved with beautiful flowers and other paintings made with glass. A queen of the fort used to love sleeping under the stars. It is said that ancient custom of the land did not allow women to sleep in open air. King called upon the finest architects in the region to solve the problem. Thus, the mirror palace was built. It is said that if two candles are lit in the palace, it would look like thousands of stars glittering in the ceiling.
What is Jantar Mantar?
Jantar Mantar, literally means "instruments for measuring the harmony of the heavens" is the oldest in India. Each instrument has a specific purpose and gives an accurate reading. The impressive Jantar Mantar, an astronomical observatory built in the early 1700's by Maharaja Jai Sing II, the astronomer to which this city is named after. It houses various architectural and astrological instruments that have caught the interests of astronomers, historians and architects around the world. It is considered to be one of the largest observatories ever built.
Jaipur – Experience Playing with Elephants
We were taken to a sanctuary in Jaipur on a journey to the world of rescue elephants and were guided through an unforgettable experience with these magnificent creatures. Beautiful day with the elephants video up on YouTube.
This tour offered us the incredible opportunity to walk hand-in-trunk with these beautiful elephants. We were able to touch, feed, paint, wash and get to know these animals in such a personal and beautiful way.
Truly magical to see the height at which an elephant stands and experience their environment from an elephant's perspective.
Also did an Elephant Back Ride, fed them lots of bananas and sprayed them with cold water hoses.
Bare-back Elephant Back Riding enables us as humans to feel the power and bulk of an elephant in contrast with the quietness, delicateness and grace of these mammoth creatures. It was magical too see their movement as they walked and glided across the ground.
Water Palace – Jaipur
The most serene sight in Jaipur is the beautiful Water Palace. This low-rise symmetrical palace floats in the center of Sagar Lake.

It was breathtaking to get to the palace in the indian gondola rides.

Sand colored stone walls are a stark contrast to the surrounding mountains, and the gardens are full of lush foliage and fruit trees including pomegranates, coconuts and dates.
We enjoyed every minute of I.N.D.I.A a world of color, amazing people, textures, sights, smells and sounds that will never fade from our hearts and our memory.
In Love with the Architecture
India has the most beautiful architecture. In the face of the most complex, intricate architectural wonders, one cannot help but think of all the beauty.
That's what comes to mind when we see the forts and gates and Mughal mosques, the palaces and havelis and winding walls tracing the tops of hills.
If anyone wants to be reminded of the immediacy of the present, go to India and open your eyes. It will make you feel so tiny in the grand scheme of things.
While the Taj Mahal is the most famous of the places we visited, the sandstone forts, glowing red, were what stood out to me. Caught in the last hours of sunlight they were impossible to miss, impassive and impressive, a testament to their necessity (keep people out) and constructive skill.
We only visited the North India, of course, and other parts of the country have different architecture for sure. But from now on when we think of Rajasthan our minds will immediately leap to royalty, palaces and archways.
In Love with the People
A highlight no matter where you go in Rajasthan or Delhi or Agra: people want you to take their photo or take a photo with them.
Loved talking to the people they were amazing.
From tiny villages to bigger cities, kids would run up and ask for a photo, then ask to see it, then give a thumbs up or a high five and then disappear.  Our memories and photos are full of these sequences, not just from kids but their parents, equally excited to see their kids on camera.
In Love with The Food
Every province of India has different dishes and culinary traditions. Punjabi food versus Rajasthani food versus Bengali food — so many variations of spice and taste and preparation.
So much food. If you haven't tried these delicacies from North India you are missing something blissful! They had the best VEGAN options and they made the dishes without oil for us.  So much variety we were in vegan heavan.
Indian food is world renowned for its tantalizing flavors, spiciness and variety. Curries are created from subtle and delicate blend of spices such as cumin, turmeric, cardamom, ginger, coriander, nutmeg and poppy seed.
Every dish we have tried so far has been delicious. The chefs were so wonderful at accommodating our vegan, no oil plant based meals.
Met the famous chef Satvir Singh of Resort Anuraga Palace, Rajasthan.
He prepared a North Indian cuisine especially for us consisting of: Ghevar, Biryani, Manchurian Veggies, Jilebi, Carrot Barfi, and Orange Basil drink. All the ingredients were picked from their locally owned organic farm Shabri.
While in India, every hotel we stayed at the Chefs were so accommodating in making healthier versions of the meals for us.  
While in India eat what the locals eat: upma, idli, dosa, sambar, vada with mouth watering coconut, tomato and mint chutnies!
Upma also known as semolina, or sooji and is commonly used to make dishes like warm, savory porridge for breakfast.
Each meal is served with pickled achaar, made in so many varieties such as mango, lime, lemon, garlic.  These are foods pickled from certain varieties of vegetables and fruits – finely chopped and marinated in Indian spices.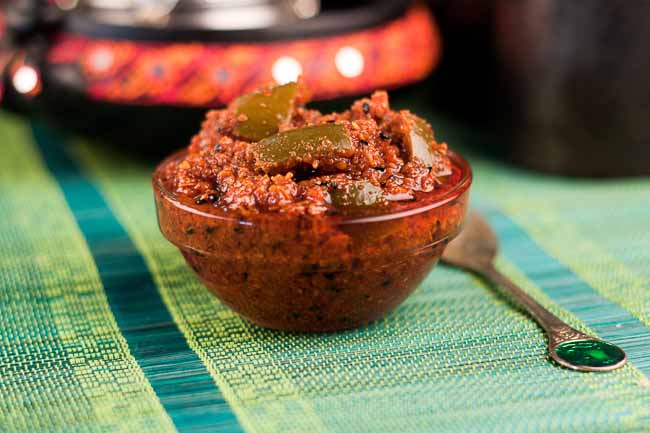 Chef Suresh Kumar in Ramada Agra made the most delicious baked vegan bite size samosas for us and golgappas.  We talked for hours about his passion for fusion cooking while eating gol gappas!
Fennel seeds, called saunf in India, are served after a meal, sometimes coated in peppermint of different colors.  Occasionally, they are in packets with rose petals and star anise seed and fenugreek. The fennel settles your stomach, gives your mouth a fresh taste.  People commonly chew fennel seeds after a meal in India, as it helps to digest food and prevents the formation of gas in stomach. It is an aromatic herb, which is also used as a mouth freshener.
Traveling is something which rejuvenates you and fills you up with lots of energy. Yes, that is true because travelers who love to travel, explore the unexplored.
We hope that this article has inspired you to visit India the Taj Mahal. If you have any questions about this destination please leave them in the comments below.
_____________________________________________________________________________________________
Follow Jax Vegan Couple on Facebook, Instagram, YouTube.
Are you investing in your health?  Reserve your FREE 30 minute Phone Consultation and Download the JVC 21-Day Meal Plan E-Book NOW